Where? What? When?
Pathway on the Move...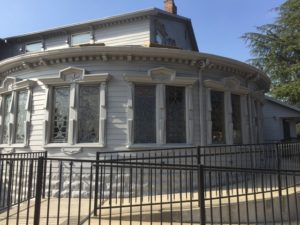 Our new home, affectionately known as "the Mansion" is currently undergoing some restoration and construction.
We are meeting temporarily at the Madison Mall Bingo right behind Raley's and PetCo at Madison and Hazel. KidZone and Jr High programming will be available during the Modern service for kids 6 months through 8th grade.
Scroll down to the Calendar below to see more events.
Wednesday Morning Men's Breakfast and Bible Study
This group meets at Ashley's on Main and Madison for breakfast, fellowship and a verse-by-verse Bible study at 8 am. All men are welcome!
Wednesday Night Women's Bible Study
The Bible study is taking a holiday break until January and will return. Details coming soon.
Christmas Dessert Fellowship
Bring a dessert and come hang out with us for some sweet, Christmas fellowship at the Venkataya home 7150 Rotherfield Court in Orangevale. Beverages and paper products will be provided, so just bring a sweet treat to share. Sunday, December 16th at 3 pm. See you there!
The Meeting Place
SUNDAYS at 7:00p.m.
At Mount Vernon Chapel on Greenback Lane in Fair Oaks
| The Meeting Place |No Perfect People Allowed |
Real Life, Real People, Real Recovery
What is The Meeting Place?
We are a 12 Step Recovery Speaker/Discussion Meeting and Outreach.
We respect and encourage membership and active participation in all 12 Step Recovery Programs
We believe in attraction rather than promotion.
We believe in spiritual growth and spiritual family.
We believe in carrying the message of hope and love to the newcomer through personal testimony.
We believe that the 12 Steps and Sponsorship are the beginning of a solution to a deadly disease and that spiritual growth is the key to a contented and sober life.
We believe in following ALL of the suggestions in AA and NA recovery literature.
Love and service is our code.
tHe Meeting Place Anniversary Christmas Party
Sunday, December 16th at 6 pm. This is an open event. All 12-step and faith fellowships and their guests are welcome to attend. We have phenomenal speakers and coffee and desserts (feel free to bring a dessert to share). The event will be held at Mount Vernon Memorial Park at 8201 Greenback Lane in Fair Oaks.
Candy and Coffee Drive
Every year, we put together Christmas baskets filled with love, a greeting card, coffee and candy to be delivered to recovery homes in our area. We will be collecting coffee, candy, greeting cards, gift bags and baskets and then assemble them for delivery. If you have donations, or would like to help assemble or deliver, please contact Kimberley 916-370-3959 or Jori 916-886-1483.