During the Holidays, I always turn a little nostalgic. One of my very first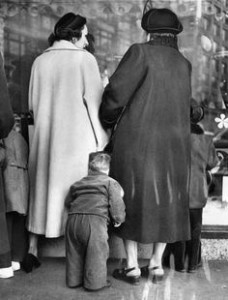 memories is being in Virginia for a brief time after Dad left the Navy.  I must have been 2, maybe a little more.  But I remember walking down the street with my Dad and Mom.  We had gone down town in Hampton to do a little shopping.  I was all bundled up in my winter clothes, and a light snow was coming down so slowly that you could reach out a catch a big snowflake for a second before it desolved.  All the stores had their Christmas lights on.  Obviously I can't remember everything of that event, but in my mind it was like a Normal Rockwell painting.  That memory has brought me wonderful feelings about the holidays ever since.  It was one of those picture book memories that shapes my attitude and feelings about Christmas.
Maybe that is why I am obsessed, (Maybe a little too strong a word – depending on who you're talking to – if you talk to my family, it is spot on),  obsessed with capturing the past so that I will remember the wonderful events of days gone by.  I guess that is why I love decorating our Christmas tree to the music of the Messiah every year.
As a youth, I would buy a big calendar to put on my wall beside my desk in my bedroom.  Each day I would write down what happened – just the high points & the things I did not want to forget.  Later in college I would graduate to a journal, at first hand writt
en.  I have boxes of stuff out in the garage, keep sakes that take me back in time.  I have things that I have purchased from all of the world on my journeys, decorating my office at work and at home. Some things especially have deep meaning & I connect them to some important event that took place.
My memory is so poor, & getting worse.  So these things help me keep in touch with my past.  Especially my photography – I can look at those old photos, and recapture the days gone by.  They help me to remember the blessings of God and the great joy that He has allowed me to have.
There is a flip side to this.  During a very dark period of my life, that came and went for about 10 years (mostly dark) – I kept a very detailed journal of the events, my failings and my feelings. It was much easier to do since I had joined the computer age.  So I wrote a lot.  I was struggling with depression during those years.  Finally I started to get well, thanks to therapy, my wife and some very loving people at Pathway.
But I wouldn't let go of that dark past.   I would occasionally go back and read about what I had gone through and how it had such a devastating effect on me.  The worst part was not so much what had happened, but what I thought about those situations and how they affected feelings and my self-image.
For years I hung on to those writings – going back to visit occasionally.  It was like going back to a garbage dump.  It was smelly. It was awful.  And it would drag me back down into the darkness.  I couldn't really break free.  God had forgiven. I had forgiven.  But there it was, always waiting for me to return & recapture the pain, the hurt and the evil darkness.
Finally I did what Jan (my wife) had kept telling me to do. (Sometimes we men don't always listen right away to those who love us.)  I deleted it all, and threw all of the hard copies into the shredder.  I would never be able to go back now. It hurt when I did it.  But now they were gone.   It was like cleaning a wound, hurtful and yet the only way for it to heal up.  Over time, those things began to leave my conscious memories.  Then I began to experience the real healing that I so desperately needed from God.
There is a great spiritual lesson in all of this.  There are things in life that God wants us to remember.  He wants us to look back and count our blessings.  He wants us to remember just how good and faithful and loving and forgiving and wonderful He really is.  Hence, we need to remember His kindness for two basic reasons.
The first, so that we know where our blessings come from & can praise Him.
Second, so that we can heed his warnings, and not go "off-roading" from His plan.  He wants us to keep our lives in His circle of love. The good memories keep us on track.
And then there is the matter of the brokenness of our lives, the results of the darkness.  He wants to forgive them.  We need to forgive others and ourselves.  And then we need to bury those events in the graveyard, never to go back.  Not even to lay flowers.  There will come a time, when you are so healed, that you can share them with others to help them in their despair.
But this is always from the side of victory, not defeat.  As a result we praise God all the more. 
In the coming "holidays" focus on the good memories and try to banish the hurt and pain of things forgiven.  God has forgiven them, and buried them.
We need to do the same, and then move on in the Love, Joy and Peace, that comes when we remember all the great things God has done for us, in us and through us.
In Christi Gloriam,
Pastor Mike
---